Originally Published in 2010.
Post Hypnotic Press audio version published in 2013.
Read by Daniel Mate
Duration: 1 hour, 34 minutes
Canadian author Gail Bowen takes a break from her Joanne Kilbourn series to bring us Charlie D, a talk radio personality who works the late night shift. This is part of the Rapid Reads series by Orca Books. This is designed to be a set of exciting, short mysteries. On paper this book clocks in at 128 pages.
Charlie D is working the night show on Valentine's Day. His guest is the boss's wife. The boss is an ancient man who has married the young, very elegant and very expensive prostitute he used to frequent. She is now very pregnant and being interviewed about her thoughts on love and relationships.
Meanwhile, the neighborhood around the station is now awash in threatening newsletters and posters that advocate getting rid of the local prostitutes in any way possible. These vigilantes are inspired by the right wing host on the air just before Charlie D. He is a Bill O'Reilly type of host with discussions of fighting for the preservation of Canadian morality and some of his fans have gone too far - especially when they call Charlie D to show him live video feed of a local prostitute who is awaiting execution at their hands...
I enjoyed the give-and-take between Charlie D and his listeners and the guest. But, the premise of the story - the coalition of bad guys, the frank discussions of prostitution, the "hooker with a heart of gold" scenario played out twice in just an hour and a half just made the book seem less like a story and more like a political screed against the political right ("Watch out for them sexually repressed right wing nutjobs! They are all twisting the Bible to justify all kind of horrendous things because a radio guy told them to!").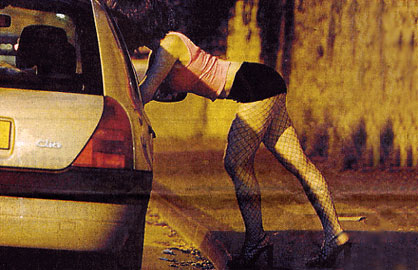 I also had a problem with a discussion of sex workers that only included the
positives of this kind of work (such as helping people with physical handicaps attain sexual satisfaction and providing sexual and perhaps even emotional comfort to the lonely) but said almost nothing about the downsides, including the spreading sexual diseases, dealing with pimps, human trafficking
and the rampant substance abuse that often accompanies this career choice. Despite the politically correct use of the term "sex worker" in an attempt to give prostitution a veneer of respectability, I cannot imagine the day when a parent will be as proud of his or her daughter being a "sex worker" as he or she would be if she were an accountant, a used car salesperson or even a politician.
Daniel Mate's pleasant voice made Charlie D a fairly believable and likable character. The rest of it just fell flat and would have no matter how well Mate had read it.
Note: I received a copy of this audiobook free from the publisher in exchange for an honest review.
I rate this short story 2 stars out of 5